Reservation Request | Outdoor Tastings + Picnic Experience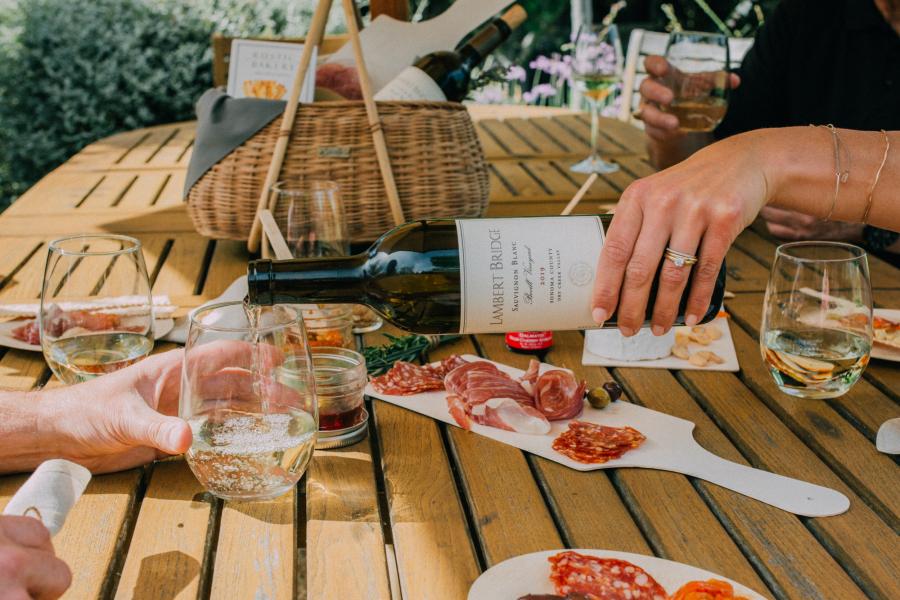 We are excited to announce our reopening on September 4th! We look forward to welcoming you back to the winery!
OUTDOOR TASTINGS
Join us on our patio for a socially distanced outdoor tasting experience featuring a flight of wine accompanied by a local cheese plate. We are hosting tastings by appointment for up to six guests at 11:00am + 2:00pm daily.
PICNIC EXPERIENCE
Picnic tables in our garden are available by reservation only at 11:00am + 2:00pm daily. To use the picnic area, we are required to provide food with your experience. We are offering a curated picnic basket that will include local cheese, charcuterie and other provisions to enjoy. A bottle of Lambert Bridge wine can be purchased separately to enjoy while in the gardens.
WEST DRY CREEK ROAD FIRST RESPONDER + FIREFIGHTER EXPERIENCE
We are proud to partner with our dear friends and neighbors at Flambeaux Wines (approx. 10 minutes from Lambert Bridge) to offer a complimentary experience to thank you for your tireless efforts to save our communities, livelihoods, and homes. From October 1st until December 31st, any first responder or firefighter can enjoy:
Complimentary Tasting Experience at Flambeaux Wines hosted by Founder Arthur Murray. Relax on the patio of the Murray's home and taste through five current release wines including their top rated Zinfandel + Cabernet Sauvignon while overlooking their beautiful vineyard property and the Mayacamas mountains. Click here and select the "book a tasting" button and indicate you are a first responder or figherfighter within your reservation.
Complimentary Picnic Experience at Lambert Bridge Wines in our gardens for two including a basket of local cheeses, charcuterie, provisions and self guided tasting. Our picnics can be made at 11:00am or 2:00pm daily. Please fill out our reservation request for below and select the "First Responder + Firefighter Complimentary Picnic Experience" to book.
Words cannot express how thankful we are. We looking forward to welcoming you with open arms to express our gratitude for all you have done!
Please complete your reservation request below and our concierge will reach out to you within 24 hours. We look forward to seeing you soon!
Please complete all fields.